"

I highly recommend a ThermoBuzzer session for an in depth review of your health and wellbeing, getting to the root cause of the issue and benefitting from Susan's extensive & truly amazing insights, as well as the practical advice she can offer you.

"    
– Sally C
ThermoBuzzer Package Options
Initial Tel/Online Consultation: £29
Find out more about how this service can work for you and what your options are whether you are enquiring for yourself or looking to include this as a company health benefit.
*Please Note: Face to face meetings are available in line with Covid-19 Government Guidelines.
Gold Scan + MWB Consultation: £239
Scan Only: £199
Includes a full body scan of up to 30 digital infrared images. It's a comprehensive 'top to toe' visual incorporating front, back and sides of the whole of the body which overall provides a fuller and more in-depth picture.
"

If you're looking for a 'preventative' health experience, you will receive this and so much more.  It is much more cost effective than having to have sessions with several different practitioners.  I will definitely be having a follow-up review session to check on my progress.

"    
– Sally C
Silver Scan + MWB Consultation: £199
Scan Only: £149
Includes a half body region scan of up to 20 digital infrared images.  This popular option enables research into another 2 to 3 areas throughout the body, which can be helpful to see and appreciate the connections between them.
Bronze Scan + MWB Consultation: £149
Scan Only: £99
Includes one body region scan of up to 10 images.  This is a good place to start as a preliminary option, scanning just one localised area of your body e.g. Head, Neck, Shoulder, Breast, Abdomen, Hands, Arms, Feet, Legs.
"It's quite something to be able to see inside your own body and really get a sense of what's going on in relation to how you feel. The visual snapshot is very powerful and certainly helped me to commit to my self-care"
– Susan
ThermoBuzzer™ Thermography Imaging is available in the Midlands, UK.  It has many uses and a variety of benefits in the easy and comfortable process of conducting body scans such as for lifestyle management in Women's Health.
It is non-invasive, non-contact digital thermal infrared imaging and is especially effective when combined with Lifestyle Prescriptions® Root-Cause Health Coaching based on Organ-Mind-Brain Anatomy; exploring the connection between specific organ tissue and specific stressors, emotions beliefs and lifestyle habits.
This innovative and easy to access service provides a convenient method which visually demonstrates surface heat patterns, blood flow and stress imbalances in the body that is ideal to use for the purpose of increasing motivation and compliance for Stress Management and Peak Performance.
What is ThermoBuzzer™?
ThermoBuzzer™ is a cutting-edge mobile thermography technology combining non-invasive, non-contact infrared imaging with Organ-Mind-Brain Anatomy and Lifestyle Medicine principles to visually connect the dots seeing the correlations of 'heat spots' and 'cool spots' and the patterns, indicating stress imbalances in the body.
Is ThermoBuzzer™ a medical diagnostics tool?
Because ThermoBuzzer™ is NOT used as a medical diagnostics device it's the perfect educational, preventive monitoring system which can be used to increase motivation, compliance and accountability within the process of making lifestyle modifications in alignment with Lifestyle Prescriptions® Root-Cause Health Coaching.
What's a typical ThermoBuzzer™ session and procedure?
A ThermoBuzzer™ image can firstly be taken of the head (front, left and right) or other body areas as required. Depending on the body areas scanned it may be necessary to remove clothing (which is done behind a privacy screen). The image created can then be used as part of a Lifestyle Prescriptions® Root-Caused Health Coaching personalised programme to help increase motivation, compliance and accountability for Stress Management and Peak Performance protocols.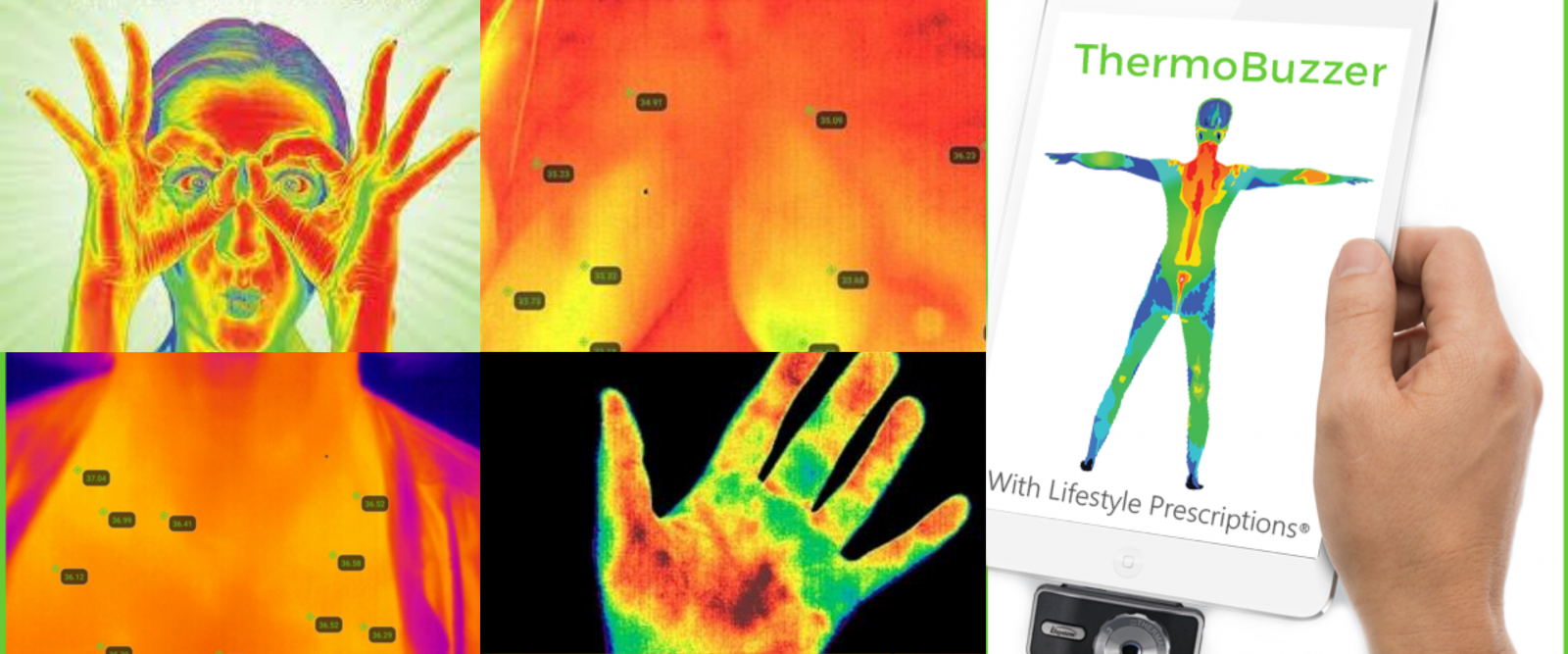 THERMOGRAPHY FOR EXECUTIVE LEADERSHIP AND PEAK PERFORMANCE – ADVANCED  SMART SOLUTIONS
This leading edge technology is being used in companies to support their people in reaching a higher level of potential through the investigative process of scanning their team members, to help identify where the most areas of stress are being physically presented in their bodies. This finding can be representative of a general imbalance which is being commonly shared in that section of the business, using this information a strategic counter balance can be put in place. 
For Example: Those who are constantly sitting in front of a monitor may show 'hot spots' around their heads, neck and shoulders and 'cold spots' around their feet and lower legs.  Continuation of this prolonged activity naturally leads to health issues, which impacts peak performance.  With this validated information, the management team has the advantage of assessing the best business protocol to adopt and safeguard the health of the workforce through 'best practice' policies and consequently 'future proof' the business.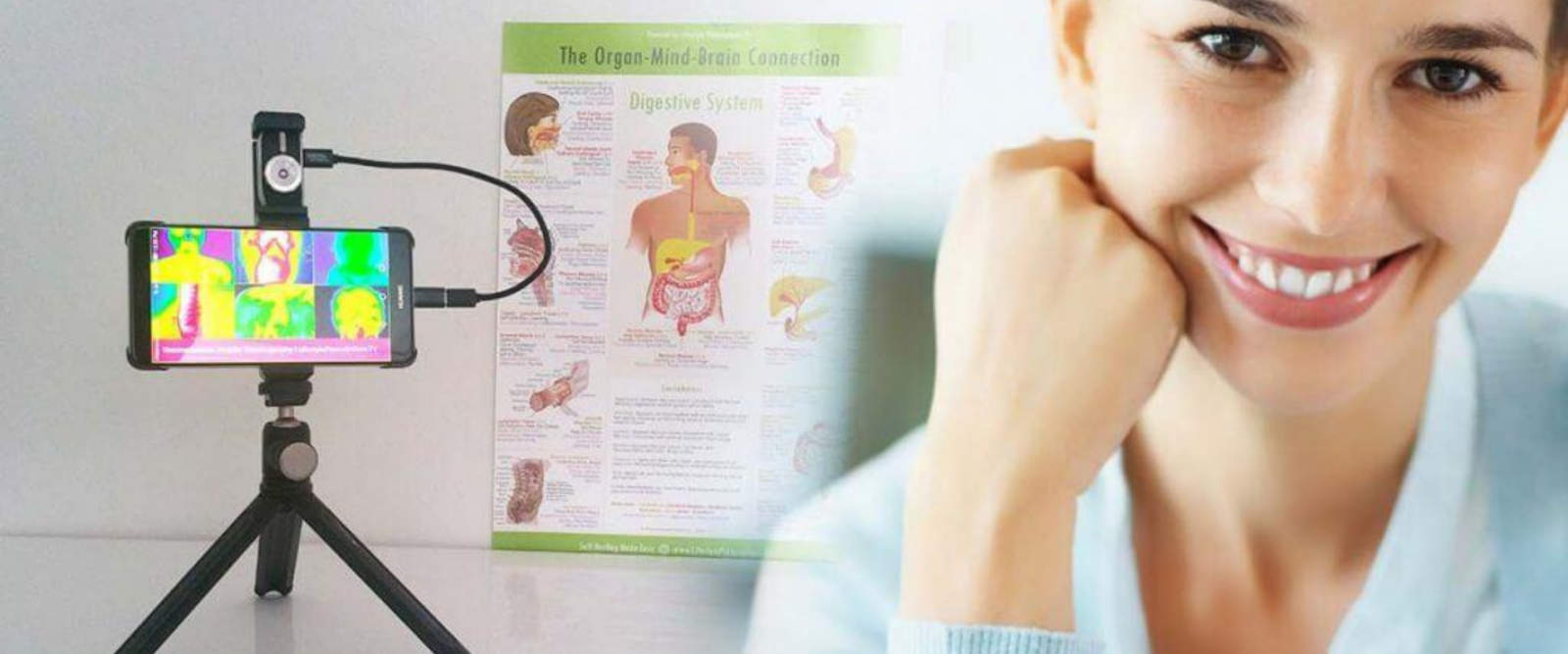 ThermoBuzzer™ "Know Yourself Inside Out"
ThermoBuzzer™ this website and all content is for educational purposes only and NOT intended to diagnose, treat, cure, or prevent any disease or psychological disorder.
ThermoBuzzer™ is NOT A MEDICAL OR CLINICAL DIAGNOSTICS DEVICE and CANNOT be used for any form of disease/pathology related diagnostics or treatments.
Lifestyle Prescriptions® and ThermoBuzzer™ are international trademarks of the Lifestyle Prescriptions University® and may not be used without prior approval by the Lifestyle Prescriptions University®.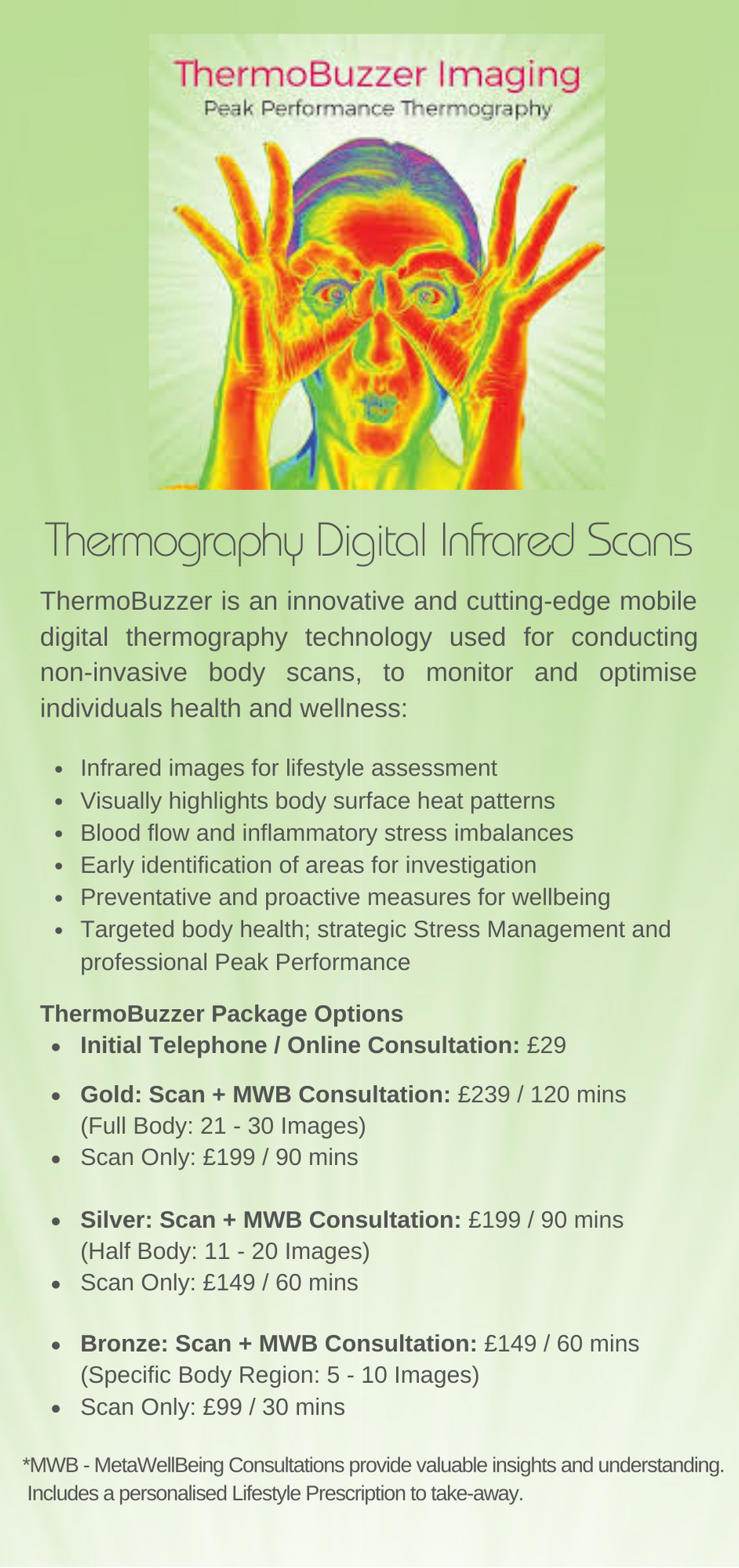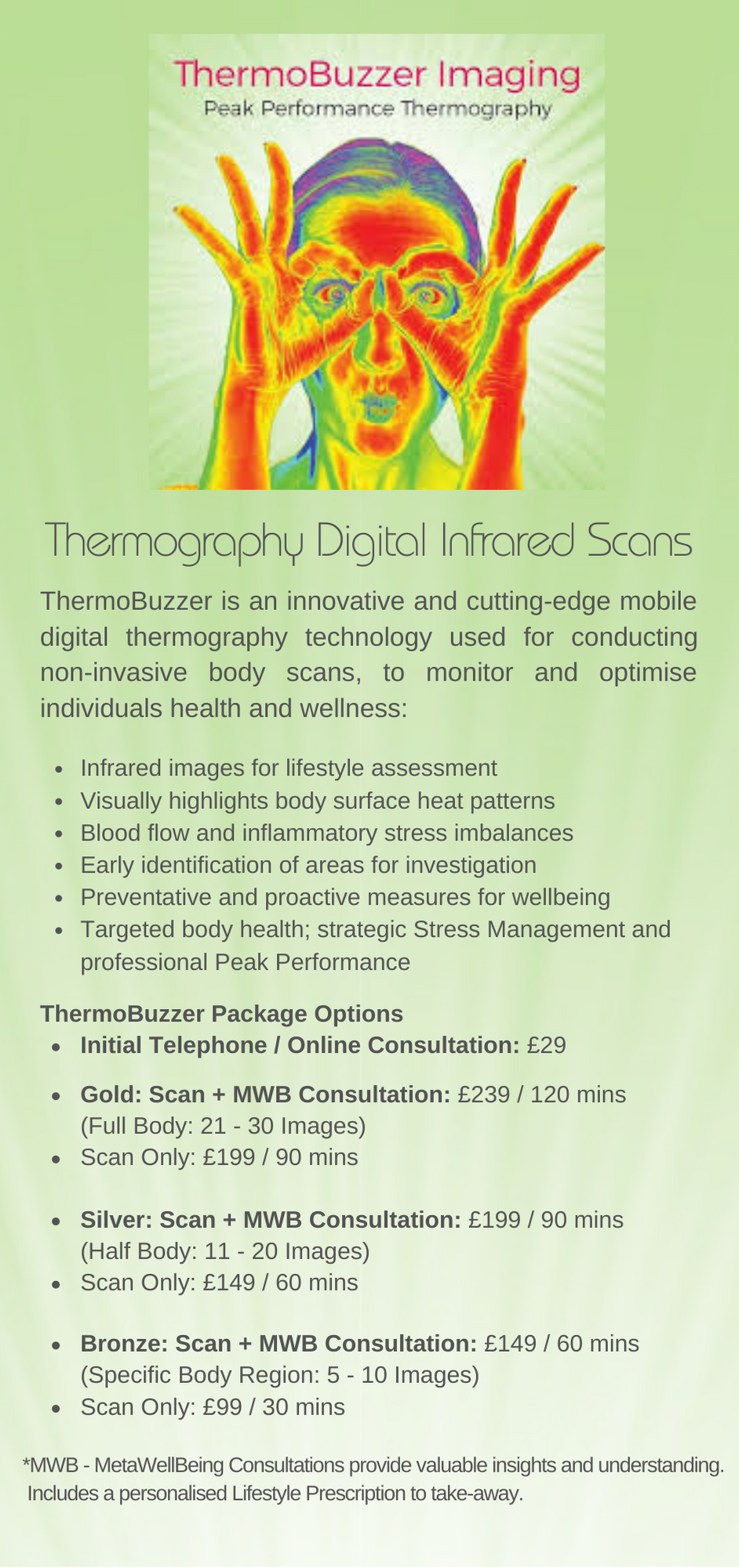 The Meta-Well-Being Consultation 
Lifestyle Oriented Consultation; gets to the heart of the matter for creating positive and long-lasting transformation 

META-Health Analysis; aims to bring understanding of lifestyle connections linked to the 'root cause' of an issue or condition that maybe showing up as a problematic symptom and needs to be addressed before it develops into something more serious

Lifestyle Prescriptions®; an agreed practical plan of action to take-away and immediately start to make the necessary changes
Meta-Well-Being Health Coaching and Mentoring Programmes are available for a more comprehensive and strategic approach to personal healthcare.  These are particularly popular where ongoing support and in-between sessions I required with extra attention to Lifestyle and Self-Mastery practices for successful commitment to staying on track.  Unlimited ThermoBuzzer scans per session are included within these packages and therefore maybe a more attractive proposition.  
For more details CLICK HERE