Wellbeing Yoga Day Retreat
Our next Wellbeing Yoga Day Retreat is on : Saturday 6th July 2019 – STILL PLACES AVAILABLE!  CLICK HERE TO BOOK YOUR PLACE NOW
Here is an opportunity to take a pause from the busyness of your life and the daily challenges. Where you can tap into an oasis of calm for peace of mind and recharge your body's vitality.
The Body-Mind-Bliss Retreats are expertly guided by Susan Gardner, Women's Wellbeing Specialist and Yoga Teachers; Megan Jones, YogaEvolution and Anna Morrone, Mindfulness & Yoga Teacher.
Imagine an entire day focused on the seasonal influences on your body and mind through simple wellbeing techniques and gentle yoga practices – blissful!
You can expect to be delighted and inspired by this unique blend of two empowering women, an experience which many have already claimed to be extraordinary, life-changing and life-enhancing.
For this special day of essential time out for body mind rejuvenation, we meet at a fabulous farmhouse ideally located in beautiful rural Derbyshire on the borders of Staffordshire.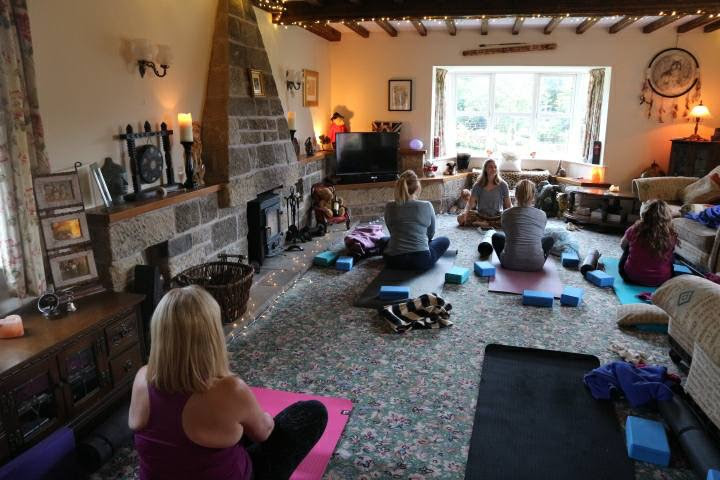 View the Day Itinerary
9:30am – Welcome and Refreshments
10:00am – Seasonal Focus of the Day
11:00am – Revitalise Yoga and Meditation
12:30pm – Nutritious Lunch; Honouring the fruits & vegetables of the season + Individual dietary requirements
13:30pm – Creative Space; Outdoors Weather Permitting, Guided Visualisation, Mindfulness
14:00pm – Calming Yoga and Relaxation
15:30pm – Herbal Tea and Wellbeing Focus
16:15pm – Closing group circle
16:30pm – End of Day
Pricing and Details
Your Investment:
*All inclusive : £97
*Friend referral special rate : £85
*Free parking
*Maximum 8 spaces
"WoW! What an amazing, life changing Bliss Experience"
Live, Love, Laugh xx Karen xx
What a boost to staff motivation levels! Everyone felt rejuvenated following a good selection of onsite services they were able to choose from. The attention to detail and the genuine care given to the staff members during consultations was nothing short on truly inspirational! I would highly recommend Wellbeing in the Workplace to any employer wishing to introduce new and innovative ways to reward their employees and to re-invigorate the workplace.
Steve
"Absolutely Beautiful – A lovely Retreat!"
Clare
You encouraged and supported me and shared your extensive experience in a way that helped me go through my training with ease. It was a really pleasurable, expanding and eye-opening experience.
You have made such a massive impact on me and my coaching, from which I'm sure my clients will benefit. I feel blessed to have had you as my mentor.
Kuljit
I found coaching helped me at a very emotional and stressful part of my life. It helped me identify what was causing my stress and positively and productively work things out. As a result my stress levels are now minimal and my relationships are positive and happy.
A Wragg
I found the coaching very holistic, it has helped me and changed the way I feel in my life. We worked on general health and energy levels which was a concern to me.
We tackled past issues which I feel had been bogging me down for more than 20 years. I am learning to forget the past and not to worry too much about the future but live in the moment.
Jenni